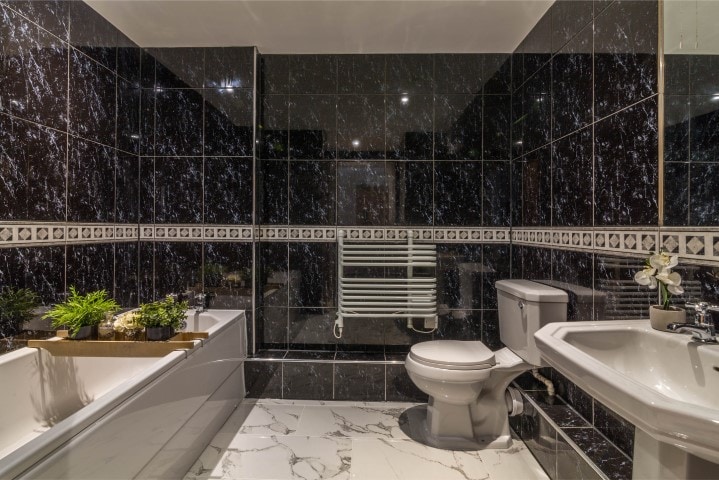 Bathroom Design Ideas
Bathroom Design Ideas
In this blog post we talk about bathroom design ideas to give your bathroom a revamp and a fresh look.
A lot of the challenges around designing a new bathroom is finding the balance between the style of the design and the general architecture of the house. Sometimes a bathroom design can be harmonious with its surrounds like a Victorian style or it can be a colourful contrast in a new build.
A few things to consider when designing a bathroom are:
Does the bathroom meet all your needs?
Ensuring a bathroom meets your needs is crucial. Before embarking on the building works the design of a bathroom needs to be carefully considered. For example, if you have a young family a bath is a must have.

Clever bathroom storage is a must
Most potions and lotions are a bit of an eyesore so it's best to plan storage areas to house all of these items.
I find that vanity units tend to work best as they make best use of the space below the hand basin.
Use artwork
Do you have an empty wall? If it's away from the main water areas add wall art as a statement piece in the room. For best impact, go oversize!
Get creative with tiles

Unless your style in the rest of your home is very minimalist and monochrome, use colour in the bathroom. Use tiles to achieve a play on colour. In addition, you can put together some very unique tile designs as well as playing with the colour.
At Emma Martin Interiors we work with residential and commercial interior design projects.
We offer a complete, personalised interior design service tailored to your individual needs, whether that's for your home or for your business.
We create designs based on your brief that reflect your taste and personality and we cover Nottingham, West Bridgford, Derby and Leicester.
If you have a project you would like to discuss with us you can contact us here.