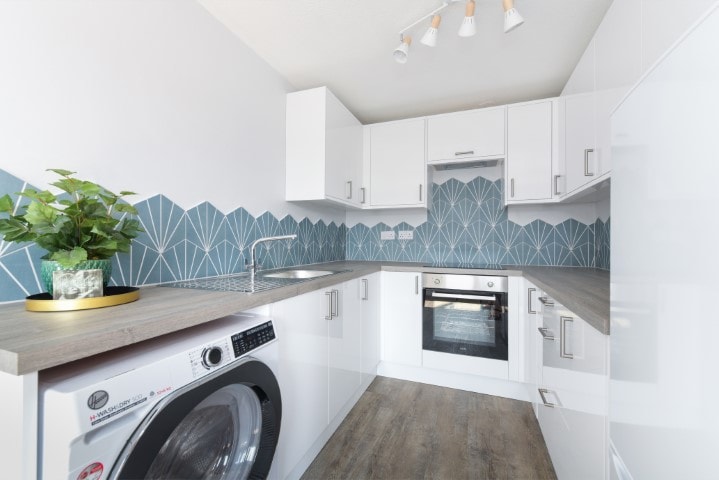 Kitchen Design Ideas
Kitchen Design Ideas
In this blog post we talk about kitchen design ideas to give your kitchen a revamp and a fresh look.
A lot of people thinking of revamping their kitchen struggle with finding the balance between the style of the design and the architecture of their home. Can they go ultra-modern in a Victorian property? Or go for shaker style in a new build? A good starting point is deciding how you would like your kitchen to make you feel rather than look.
Successful kitchens are the ones which are both attractive and practical.  A well planned kitchen is there to make our lives easier.
Spatial Planning
Spatial planning is the first thing to consider before choosing the look you want to go for. Think about the following:
Does it meet your lifestyle?
If you have a family or like entertaining friends you might need to incorporate a kitchen island or large dining table. This, in turn, will determine where the lighting should be.
Plumbing and electrics
After you have decided on the spatial aspect of the kitchen design, you then need to determine where the plumbing and electrics are going to follow.  A mistake a lot of people make is not adding enough sockets. Think about the appliances you have and how much you use them. Likewise, with plumbing, it is a good idea to have the dishwasher close to the sink.
Lighting
The main type of lighting in the kitchen needs to be task lighting. Think of where the lighting needs to be and ensure there is enough of it. You can create a mix of downlights, ceiling pendants; and under counter lighting.
Storage
Storage is one of the most important elements of a kitchen. You don't need a huge amount of cupboards, just the right ones for what you need to store. Kitchen cupboards need to be close to the cooking area and the dishwasher to make the unloading space shorter.
You can also use storage to display your lovely crockery and glassware with a glass-fronted cupboard. This will make your kitchen decorative as well as functional.
Decorative aspect
You can choose painted units, decorative splashbacks and colourful wallpaper to complete your kitchen design. You can use these elements to reflect your personal touch.
As well as using glass-fronted cabinets to display items such as vases, ceramics and wall art, you can also add open shelving to display these items.
At Emma Martin Interiors we work with residential and commercial interior design projects.
We offer a complete, personalised interior design service tailored to your individual needs, whether that's for your home or for your business.
We create designs based on your brief that reflect your taste and personality and we cover Nottingham, West Bridgford, Derby and Leicester.
If you have a project you would like to discuss with us you can contact us here.