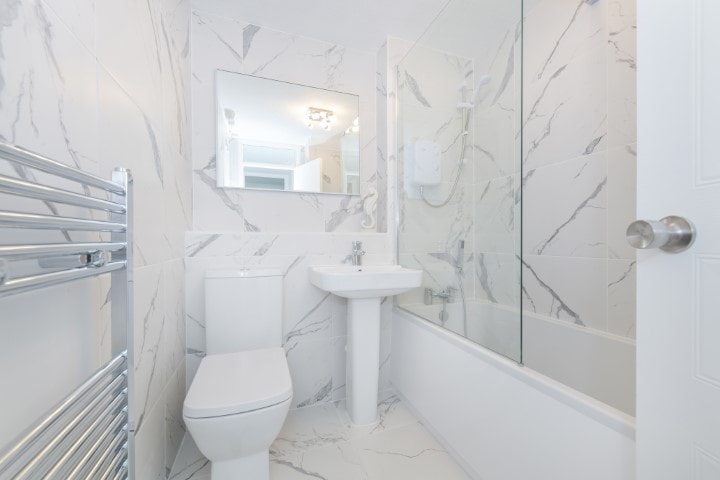 Bathroom Case Study
Bathroom Case Study
Minimalist and light design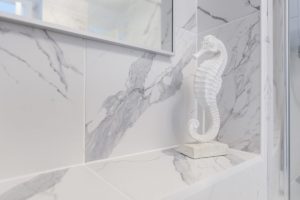 This bathroom case study can be described as pale, minimalist and full of light.
Situated on the ground floor of a penthouse, this bathroom was in need of an urgent makeover. It had not been touched for over 20 years so a full re-design was needed.
The bathroom lacked natural light; so we decided on a design which would brighten up the space as well as bouncing the light around the room.
One thing we have learnt in the past year is that bathrooms have become a place of sanctuary; whereby they need to feel relaxing at night and energising in the morning.
Lighting, texture and colour have been the three elements we have focused on when putting together the interior design of this bathroom.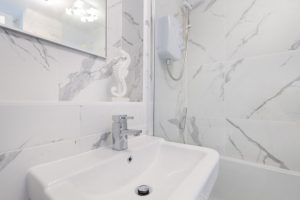 As the space was challenging we decided on a pale colour palette with smooth textures. The aim of the pale colour palette was to help to bounce the light around. We chose large matt tiles on floor and wall with minimum gaps between tiles so that there would be an uninterrupted sweep of the eye from floor to ceiling.
To ensure the space was not too clinical, we chose tiles with a marble-imitation vein. This brings out some depth to the space. We kept any deep colour to a minimum, evident only in the grey of the tiles.
With regards to texture, we chose smooth textures to marry with the minimalist design.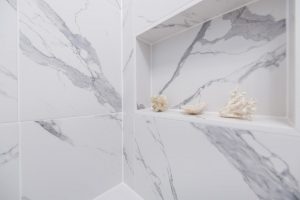 Marine accessories punctuated the space by adding the final bits of texture.
Lighting was an important feature to achieve the overall minimalist and pale look. As the space was small we decided on matt tiles that would diffuse the light throughout the space as opposed to gloss tiles which just bounce the light.
At Emma Martin Interiors we work with residential and commercial interior design projects.
We offer a complete, personalised interior design service tailored to your individual needs, whether that's for your home or for your business.
We create designs based on your brief that reflect your taste and personality and we cover Nottingham, West Bridgford, Derby and Leicester.
If you have a project you would like to discuss with us you can contact us here.