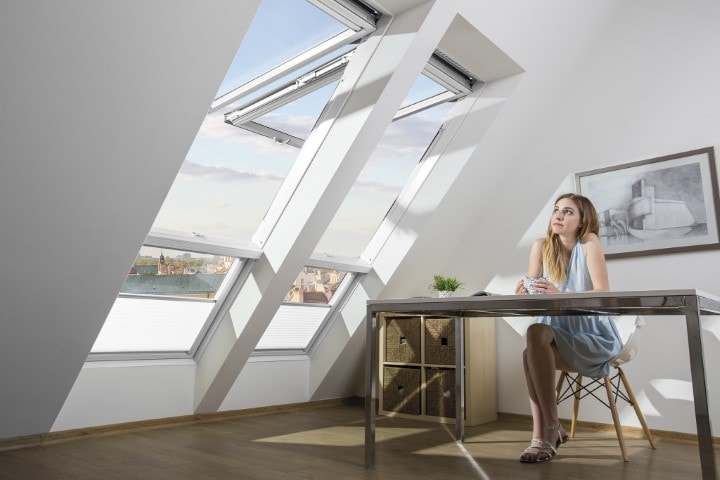 5 home staging tips for maximising natural light in your extension
5 home staging tips for maximising natural light in your extension
When you've spent time, money, and effort creating a beautiful home extension, you'll want the best possible return on investment when it comes time to sell.
We spoke to David Knight, from window specialist Roof Windows 4 You, about maximising natural light in order to maximise buyer offers.
David explains how an extension can add a number of positive elements to your home. From providing that much-needed extra space for your growing family to creating a relaxing space for guests to spend the night, there are many reasons why you might have chosen to extend your home. But, when it comes to waving goodbye to your beloved property, it's important to know what sells and what doesn't.
Extensions are an incredibly desirable addition to a property, with a report from Nationwide showing that an extension can add up to 20% to your house's original value. Not only is the additional space desirable, but with so many positive effects of natural light, such as better mood and mental health, you can be sure potential buyers will be keeping an eye out for a bright space. So, if you're thinking about putting your house on the market, you'll want to make sure it's as bright as can be.
Here are the top tips for how to do this:
Think about the type of extension you have

Every extension will be completely different in terms of what can be done to maximise natural light, so it's important that you think about the specific type, size, and scale of the extension you have. For example, if you extended your home to provide a space for guests to stay over, make sure the décor is light and airy as the bright colours will wake up the room and make it seem even more inviting.
If you extended your space to include an office, it'll be even more important that you consider the natural light in this room. This is because a lack of light in an office or work space can be very off-putting, as it's associated with problems such as lower productivity levels, stilted concentration, and increased headaches (Lamp Shop Online).
For living rooms, kitchens, and other high-traffic extensions, you might want to consider switching out furnishings such as curtains and blinds for lighter colours, while for narrow, dark hallways; you may want to add mirrors to open up the space.
Consider the room layouts and choose fixtures accordingly
Filling open-plan extensions with natural light is usually straightforward, but doing the same with other layouts can be a challenge. With an L-shaped room, for example, you may need to think more carefully about how you'll get the flow of light to reach around the bends and beat that boxed-off effect. You can do this by keeping the connecting walls free of furniture and fixtures so there's no obstruction between the two parts of the room.
You may also need to rethink some of the furniture you're using in these rooms. For example, in narrow or smaller rooms, try not to close in the space with fixtures that are the full height of your walls, such as bookcases and shelving units. This can stop light from spreading and create a dingy feel which won't be welcoming to buyers. Instead, take some time to measure up your walls and leave at least a couple of inches between the top of the fixture and the ceiling, to allow light to reach even the smallest of spots.
Glass tables are a good option as the light can pass through and light up the room.
Choose a colour scheme that enhances natural light 
Each homeowner will have their own style; but when you're trying to enhance natural light in your extension, it may be a good idea to change your colour scheme up a bit. Light, neutral colours such as white, beige, and stone will reflect any light back, helping to illuminate your extended space. Plus, by sticking with these brighter colour schemes, you can create the illusion of an even larger space.
If you're worried about the extension looking too plain with the neutral colours, try adding a few colourful accents, which will give the scheme some depth. If you're changing your flooring, I'd recommend switching to light wooden flooring or a pale carpet colour to allow the natural light to bounce off.
Look to make lucrative changes
If you think your home may need an overhaul to take maximum advantage of the light available, you will want to think about the decisions that are most lucrative and will get you the highest possible return on investment for the property. For example, if your windows are looking quite weathered, changing them for ones with larger glass panes will be a nice refresh and ensure your home is receiving plenty of natural light. Similarly, if you have dark window frames, changing them for light-coloured ones will make all the difference to brightening up the house.
For small kitchen extensions, adding a roof window or skylight will allow light to stream in, opening up the kitchen and creating a larger feel to your home that potential buyers are sure to love.
Hire a professional home stager
It isn't always easy to know where to start with staging your home, particularly if it's your first time doing so; hence why using an interior designers can help you to show your home in the best possible light.
An interior designer can work to your budget and help you to make the most cost-effective changes to your home, to make you the biggest return on investment when selling.
You can contact us here to discuss